I know that sometimes learning in a group is not preferable. So, I've created one on one coaching packages that may fit your needs. Please note, I have found that the longer you are able to work with me, the more transformation you will see.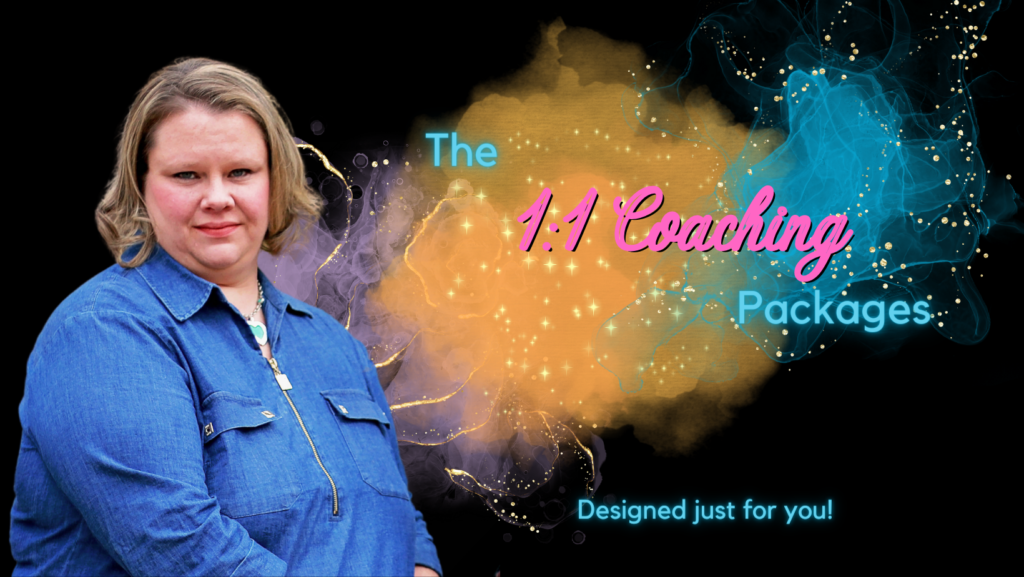 1:1 Coaching Packages
| | | | | | | |
| --- | --- | --- | --- | --- | --- | --- |
| | Single | 4 Week | 8 Week | 12 Week | 6 Month | Year Long |
| Cost | $125 | $500 | $1000 | $1500 | $3000 | $6000 |
Programs
With each package, I design a program that is specific to you, your needs and your intentions in the areas of empowering and developing your mindset and/or intuition.
While you are with me…..
I am your mentor
I am your coach
I am your accountability buddy
We will connect each week via a LIVE zoom session or In-Person session
You will have spirit assignments to complete and I will give you feedback on those assignments
I'm available for questions outside of the live zoom videos
You personally learn from me. I never hire out to have others teach my students.
and more….
What you can learn…..
Again, this program is set up to fit your desired intentions. You can learn many of the topics below
Meditation
Presence
Mindset work
Intuition work
Your Energy Body
Understanding your psychic abilities
Understanding your mediumship abilities
Learning to connect with Angels, guides and even loved ones.
And soooo much more!
What to Expect in a Session
Depending on the package you choose, I guide you to empower yourself utilizing my intuition. This isn't a reading. I will deliver messages if you are open and if they come through. Ultimately, I connect with my higher power to guide you to your own power so that YOU can achieve the goals you set for yourself. The intuitive information that comes forward depends on the session design that I have helped you create. Again, each session/package is created based on the goals you desire for yourself.
Contact me for more information or to get started